Name: Mei Blackwell
Age: 17
Race: Human
Weapon Type: ...knives
Personality: Mei is typically very quiet until she gets to know someone. She keeps to herself most of the time and is nice up until you offend/hurt her. The phrase "it's always the quiet ones" applies perfectly to her. It takes a while for her to trust anyone and her curiosity has gotten her into trouble many times...
Element of Preference: Water
Secondary Element: Fire
Likes: Writing. Walking--particularly at night or when it's raining. Traveling. Being alone.
Hates: Having nothing to do. Staying in one place for too long. People who think they're better than the rest of the world.
History: Mei grew up an orphan, with not a single family member that she knows of. Being alone is something she came to appreciate over time. Childhood experiences and solitude have caused her to grow up too fast and have hardened her a bit. She used to search for a family she wished she had, but eventually decided to effort was pointless and accepted herself as being alone and having no one.
Appearance/Pictures: Mei is 5' 9" with brown eyes and reddish-brown hair. (see below)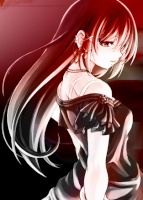 ((erm...is that enough of a history to be acceptable...?))